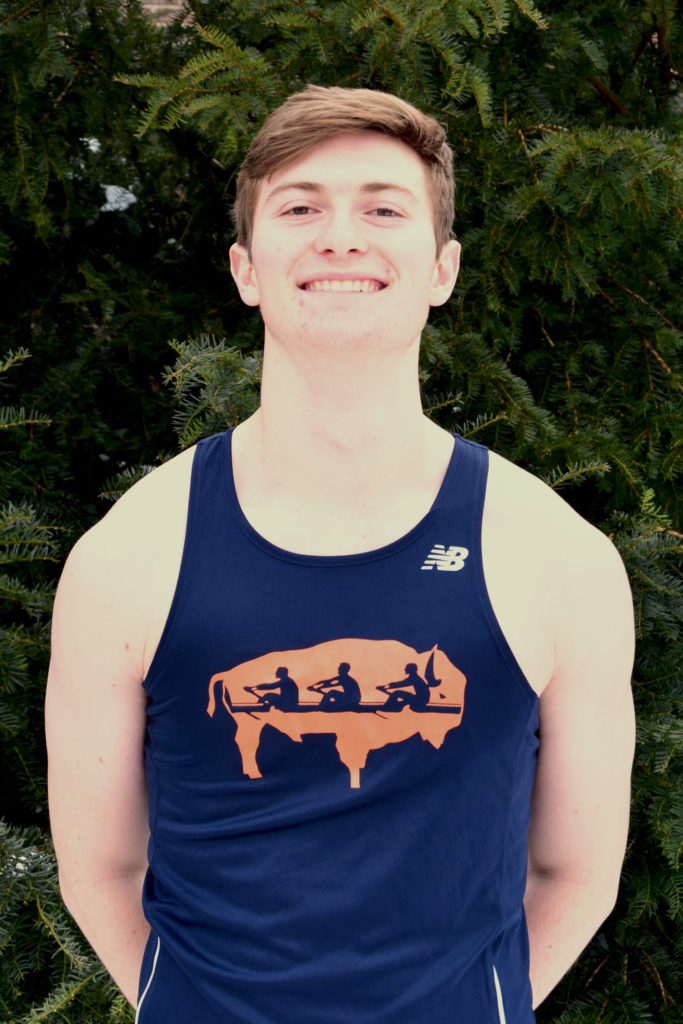 ---
Class Year: 2020
Major: Chemistry
Hometown: Weston, MA
High School: Weston High School
Position: Starboard
Height: 6'3
Weight: 180
Bio
Good Day. My name is Alexander Seel. I am a sophomore chemistry major at Bucknell University I have a two parents(s/o), a dog and a brother in that order. I lived in England, the birthplace of elite rowing, until the age of eleven. I was recruited to BUMC in the late summer months after a competitive finish at USRowing Youth Nationals, so I'm essentially a walk on who wanted a locker early.
If you're this far into this bio at this point, you probably want to know about me. Well too bad. You're 1800 meters into the Henley course, you've got Bowdoin next to you. What call makes you pull as hard as you can? The Matt Gorloff Memorial Ten. Now many coaches say you should never be able to see splits like we saw at the end of any piece, but on that day I said nay. Now enough about the best recruit of 2016.
So you want to know a little about me? I'm just your average tosser from south England. You wanna have a giggle mate? Me too. Anyhow I began rowing at Wayland Weston Crew Association in good ole Wayland Massachusetts. I wanted to row but as a 4'11" ninety pound freshman who couldn't do a pull up I rightly became a coxswain. But lets be honest anyone who can't do a pull up should probably be a coxswain. Now throughout my highschool career, I became a rower and progressed through the ranks. I found success my senior in the lightweight 8+ under instruction of the United States Filippi Rep Alex Selvig. Having a presence as powerful and inspiring as his simply on my team, would of ensured a national championship.
Now onto my Freshman year on BUMC. I was injured for a large portion of the fall. I had stress fractured my wrists from rowing and a single other wrist related activity. That activity was writing strenuously because I am a good student. Get your mind out of the gutter. Anyhow, I returned to the team in time for the Virginia training trip.
So the spring has begun, 2000 metre racing has resumed. I was 5 or 7 seat in the 3v. We had a pretty good season, won some stuff. You know typical season for someone like me. Bumming around the 3v, whatever. So onto ACRAs, I was stroking a freshman four because I nagged Kyle enough and he said sure before I threw a hissy fit. That is a lie. That is what they want you to think. So we get silver to Michigan, who cares it was a "savory finish" anyway and I'm pretty sure we got like a three word Instagram caption, while the 1v got the character limit. Do they deserve that? Yes.
Next we have Henley. Henley was pretty dope by all considerations. We didn't qualify for the main race but we still sent it. I mean the earlier you go out, the more you get to go to Mahikis right? Right about now you might be asking yourself what Mahikis is? It's the Matt Gorloff of Henley Clubs. It was sick, we sent it #YeetJaunt. One of the most memorable memories from Henley was the racing. Next to that was sleeping on the doorstep until it started raining. At this point it was like 5 am and I just wanted a bed. I knocked on the door, and who answers? The host dad. He was chill tho.
So we're here. Sophomore year. Matt Gorloff is not on the team anymore. Some people may question my willpower at this point without Matt Gorloff. But I'd like to let you know that he is my roommate. And that is why I'm gonna send it.