Bucknell Men's Crew and Women's Rowing both competed at the 2019 Dad Vail Regatta this past weekend, setting Bucknell University as the largest program at the largest Collegiate Regatta in the Country with 16 boats overall. With the combined results between the Men and Women, Bucknell finished in third place for Overall Team Standings with 35 points, behind Temple (52) and Drexel (46).
The Bison fielded 5 boats on the men's side for this race, with a 1V, 2V, 3V, JV 4+ and a men's pair. With entries exceeding 18 boats, the 1V, 2V, and JV 4+ all had to race in time trails, a 1900 m course with a moving start, to determine the seeding for the heats in their events. The other crews were straight to heats given that the entries were less than 18.
The Varsity 8 posted a time of 5:57 in their time trail, placing them as the 13th fastest crew in the seeding compared to Delaware's 5:44. This would send the 1V to the first Semi-Final for the Men's 1V events where they would need to get top 2 to move to Grand Finals, next 2 to Petite Finals, and remainder to 3rd level Finals. Here, Bucknell (6:32) would place 5th behind MIT (6:23), Purdue (6:24), Delaware (6:25), and Jacksonville (6:32) and ahead of UMass (7:01). Advancing to the 3rd level final on Saturday, where they would take first place in the 3rd Level Final with a time of 5:41 over Army (5:43), Minnesota (5:46), UMass (5:47), Coast Guard (5:50) and Ohio State (5:53).
The Men's JV Eight, also in time trails, came in 15th over all with a time of 6:18 after having lost a rudder during their warmup and having to come to two complete stops during their timed race to avoid collisions on course. Having repaired the rudder, the 2V was set to race in the 3rd Semi Final, having the same progression as the 1V. Placing in 4th with a time of 6:37 behind MIT (6:30), Temple (6:32), and Army (6:36) and over Georgia Tech (6:51) and Minnesota (7:01) would send them to the Petite Final. Here, Bucknell would see Army again but this time would defeat them for first place in the Petite Final with Bucknell posting a time of 5:48 over Army (5:50), Jacksonville (5:51), Delaware (5:52), Marietta (5:54) and UMass (6:06).
The Men's 3rd Varsity eight had less than 18 entries and would begin their racing in heats. Given that there were only 2 heats, the top three crews of each heat would move to the Grand Finals and the rest would move to the Petite Finals. Bucknell's 3V would post a time of 6:53 to be in third place behind St. Joe's (6:43) and Marist (6:52) but ahead of Purdue A (7:13), La Salle (7:18) and Purdue B (7:24), sending Bucknell the the Grand Finals. With better weather on Saturday, Bucknell would finish the Grand Final in 6th place with a time of 6:05 behind St. Joe's (5:45), Delaware (5:48), Temple (5:48), Drexel (5:53), and Marist (6:01).
The Men's JV 4+, the third crew for Bucknell Men to enter in a time trial, posted the second fastest time on the course with a 6:42 behind MIT (6:41). Here, the JV4+ would sit as the fastest seeded crew in the second heat where they would take the win with a time of 7:26 over Bowdin (7:42), Georgia Tech (7:45), Michigan (7:45), UMass-Lowell (7:50) and Marquette (8:41), which was also faster than the Winner of the first heat, MIT (7:31). Now Bucknell was favored to win the event heading into Grand Finals, and would do just that, taking home the Second Dad Vail Gold that the Men's team has won, the first being the Freshmen 8+ in 2007. Bucknell's untouchable time of 6:29 had them crossing the line victorious over Lehigh (6:33), MIT (6:39), Pittsburgh (6:39), Bowdin (6:44) and UMass-Lowell (6:47).
The 5th Collegiate boat to race for Bucknell Men was the Men's Pair, which would proceed straight to the Semi Finals and post a time of 9:57 behind Brockville (8:06), Michigan (8:24), Oklahoma City (8:49), and Minnesota (9:05) to then progress to the Petite Final. Here, Bucknell would place third in their final with a time of 7:52 behind Lafayette (7:32) and Minnesota (7:39), and over Maryland (7:54).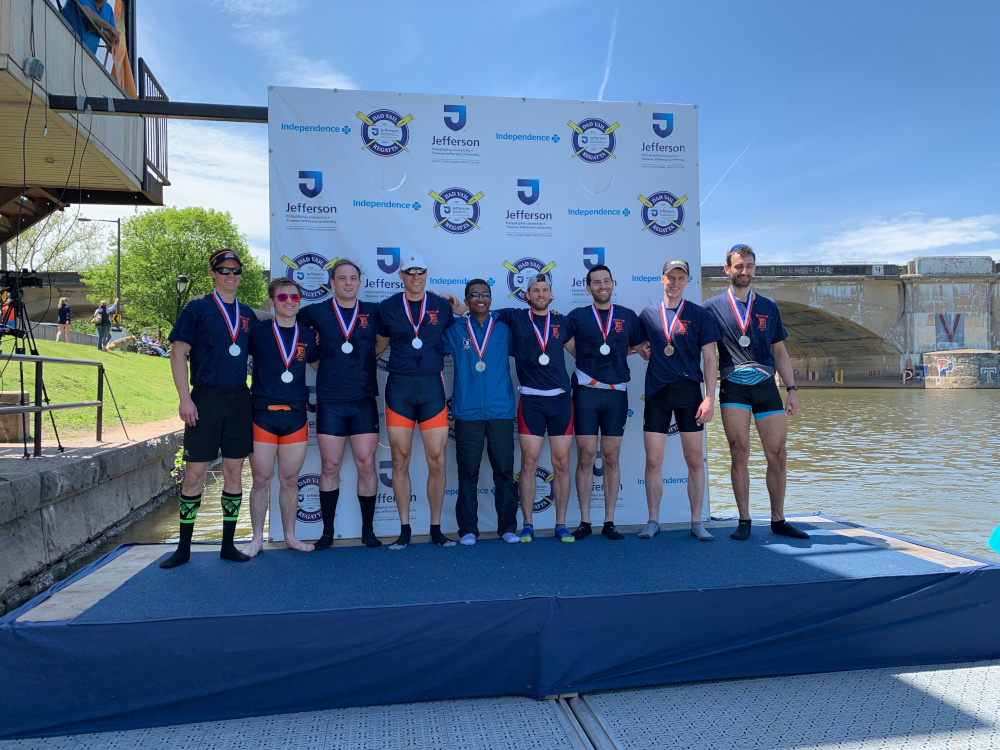 The Men's program also fielded a Men's Alumni 8+ on Saturday, to race a Drexel Alumni 8+. They raced a 500m sprint and took home Silver with a time of 1:26 to Drexel's 1:22.
Additionally to the Alumni 8+ taking Silver, another Alumni of Bucknell Men's Crew was honored over the weekend. Steve Kish '92, was honored as the 2019 Dad Vail Coach of the year for his 20+ years as the Bucknell Women's Rowing Coach and the services and experiences he has provided to the sport and rowing community.
Now the team is into their last two weeks of training before competing at the ACRA National Championships in Gainesville, GA where they will also hold their end of the year banquet to recognize the senior class and members of the team.
Lineups
1st Varsity 8 – 2018 Resolute Mid-weight XT
Cox: Max Silverman '22
8: Ryan McSherry '19
7: Bobby Subak '21
6: John Leasure '19
5: Alex Seel '20
4: Drew Stonnington '19
3: Tom Lanphier '20
2: Philip Onffroy '22
Bow: Duncan Ragland '19
2nd Varsity 8 – Class of 1985
Cox: Daniel Joseph '22
8: Matt Brown '20
7: Matt LaRouche '20
6: Davis MacKelcan '22
5: Gunnar Vorwerk '19
4: Chris Mangano '21
3: Alex Herman '20
2: Peter Foradora '22
Bow: Jackson Ingram '21
3rd Varsity 8 – Scott Uebele '00
Cox: Brody Mistrot '21
8: Nick Caravias '22
7: Aaron Swope '22
6: Liam Pearce '21
5: Jackson Ingram '21
4: Phil Thompson '20
3: Cian Nowak '22
2: Ryan Wang '19
Bow: Taylor LaRosa '21
Varsity 4+ – 2018 Husdon SP
Cox: Max Silverman '22
4: Matt Dain '22
3: Christian Sieck '22
2: Sebastian Bickford '21
Bow: Conrad Fite '22

Varsity 2-
Ethan Laurens '22
Sam Jacob '20